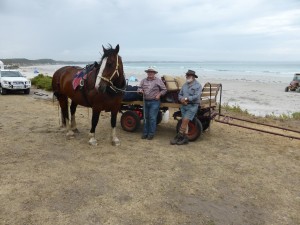 Lyle, Kevin & Quest take a well earned rest after the drive to Cape Bridgewater
The annual Foley's Run drive took place in Portland between 8th-18th Jan 2016.
The weather was very favourable with the exception of one day on which we experienced temperatures in the mid thirties.
Over the ten days, 26 members of the club participated in many & varied activities, not all horse related.
A more comprehensive report is to follow; watch this space
The video above shows some of our members driving or riding on the beach at Cape Bridgewater